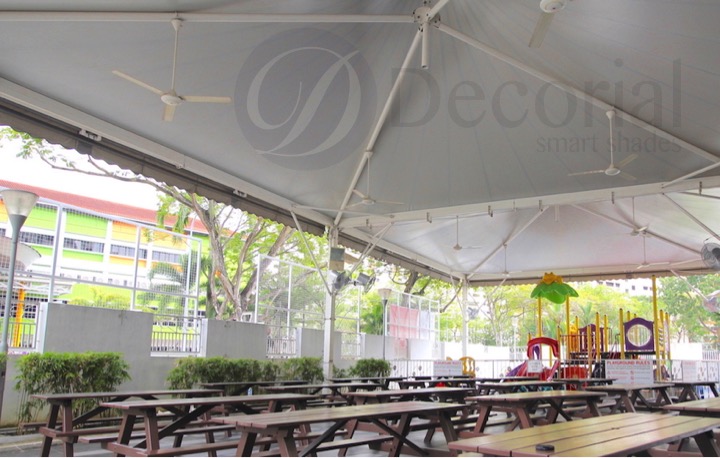 'Decorial' Premium Modular Gazebo with Retractable Awnings in Singapore
Introducing our 'Decorial' Premium Modular Gazebo with Retractable Awnings concept in Singapore. These heavy duty galvanised steel structures are designed, manufactured, tested and fully imported from Italy. The key highlights of this modular gazebo system are:
Extremely weatherproof (tested to withstand even up to 8cm of snow load in Europe) and fire retardant/resistant fabrics that achieve up to Class 0 fire rating
Able to be dismantled and reinstalled to allow temporary coverage which is perfect for events, carparks, retail space & more
Sturdy structural design to enable mounting of additional ceiling fans, lightings & other accessories (even awnings which weigh a few hundred kilograms in total)
Built in water drainage system to ensure collected rain water is channelled through the corners and to the down pipe (possible to link to underground drainage)
Optional accessories include PVC side covers, sliding glass doors and more (to allow air-conditioning)

For more detailed information about the two products, do kindly visit Modular Gazebo Singapore and Retractable Awning Singapore. Call us at "+65 6742 4221" today or email us at "[email protected]" to enquire on our range of French retractable awnings and Italian modular gazebos!