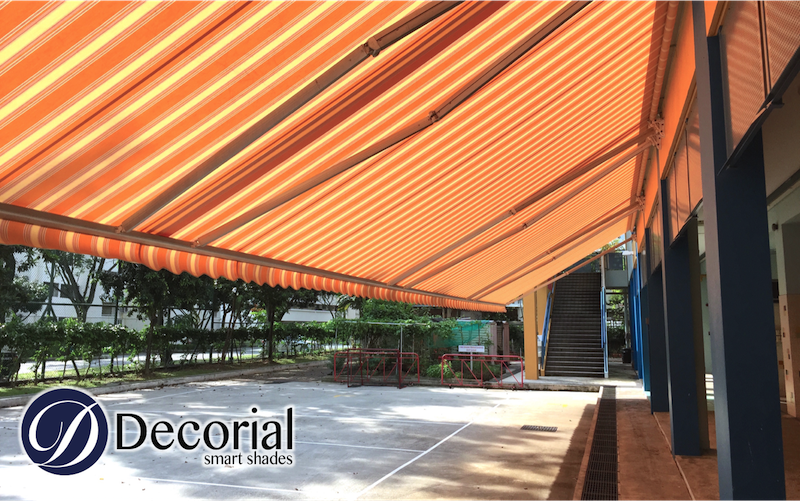 'Decorial' Fabric Replacement for Giant-Arm Retractable Awning in Singapore (Renowned Primary School)
Just completed a fabric replacement job for a 'Decorial' Giant-Arm retractable awning (21.50m x 4.0m) at a renowned primary school in Singapore. These 'Decorial' retractable awnings were installed since year 2007 and are still operating perfectly to date (10 years). We emphasise on long-term product durability, serviceability and performance. In fact, we have systems lasting even more than 20 years' with less or no maintenance required (e.g Parkview Holiday Inn – 36.0m x 5.0m x 4.0m coverage).
We are the sole/exclusive distributor for all 'ROCHE' products, which are directly imported from France, while others may provide refurbished/reconditioned/imitation products. In addition, we are also authorised to customise, fabricate and provide maintenance with a guarantee on spare part availability of minimum 10 years.
This is a truly lasting solution which offers lower depreciated cost over the entire system lifespan. Besides the excellent product lifespan, end-users may also choose to repair/replace individual spare parts when necessary instead of replacing the entire sun shading system to save cost on their side. Call us at +65 6742 4221 or email us at [email protected] to enquire!
[Also read: 'Decorial' Retractable Awning Singapore]